Round Robin's Photo Challenge May 17th
The suggestion made to us by Kiva, who authors the blog, "
Eclectic Granny.
" Here is what Kiva says about this challenge... take a photo of anything wooden.Merriam Webster defines the word "wooden" as: 1. made or consisting of wood. 2. lacking ease or flexibility, awkwardly stiff (e.g., wooden performer, a wooden speech). A picture of John Wooden or anyone named Wooden qualifies.
W

ell this challenge was quite the adventure!
I came across this wonderful tree rooted stump of a bridge while walking through the woods at the back of our place. I walked it but must admit it took alot of balance from start to finish.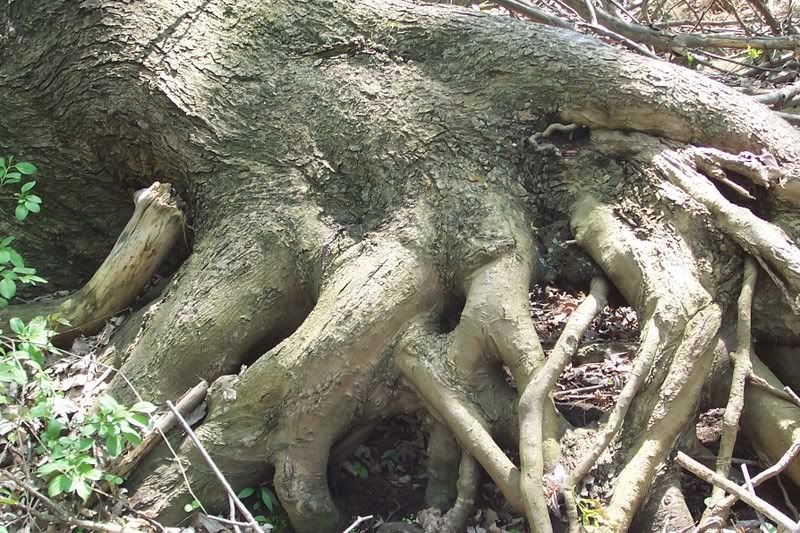 Then I spotted just a wee bit up and off to the side I this the small, pungent leaflets covering a stick bridge that lead across the small end of the stream. I was able to jumpacross it landing only one foot once into the water before I had both feet on land.
Once I crossed, I walked loooking around and quite amazed when I came across this odd little wooden home site surrounded by wild violets and moss.
It looked to have a bark roof. I got down on both hands and knees to look closer when I seen what was far more then my eyes could believe.
I saw the teenie, weeniest of a vintage wicker trout fishing creel and a pole made from a twig with a hook .I had to rub my eyes twice but there again it was..... both times.
I do beilieve I have stumbled onto a FAIRIES ENCHANTED FOREST DEN.
I felt as if our spirits had united for all eternity.
Could this be the home of Cyhiraeth (kerherrighth)- Goddess of streams?

With much love for the challenge.
Thanks to all who visit. Having surgery on Monday May 19th, but I will return as soon as I am able.
TJ